On behalf of Michael and The Puzzlebox Collective, the Autonomous Press partnership would like to invite you to read the rest of the post with the benefit of a soundtrack. The embedded video is electronica (seizure sensitivity warning), but it is more in line with a World style than a heavy, warbly Dubstep beat. The visual is simply the band's album cover art, a distorted logo, and their name, Laibach. The video should not autoplay.
From the Introduction to The Spoon Knife Anthology, "What is a Spoon Knife?" by Michael Scott Monje, Jr:

The first question I got from my partners and blogging friends when I started talking about spoon knives was "What is that?" Every one of them had heard about Christine Miserandino's "The Spoon Theory," of course, and they could tell I was referencing it, but none of them seemed to be familiar with traditional woodworking tools, because they didn't see that reference or its connection to activist work. Not at first, at least. Once I posted some pictures of various spoon knives and the bowls they were used to carve, the idea caught fire. …

… [T]he spoon knife, that old woodworker's companion that looks something like the tool it is used to make, only sharp and nasty and quick. A spoon knife is used to carve the bowl, which makes it curved, like a melon baller. It shaves away the unnecessary parts of the wood in layers, too, so it has to be sharp and strong, to keep slicing and slicing until it has peeled enough to make a depression in an otherwise smooth stick. It looks thin, like something made from an old beer can, but in a master's hands, it rewards patience and precision.

If we're keeping with our extended metaphor, though, then we still have to ask the question: What is a spoon knife? We know what our symbol does, but what in our community is capable of doing that thing—cutting away layers of what shouldn't be there, to leave us with the ability to do more, reach further, and nourish ourselves more successfully. What looks thin and weak, but nonetheless digs deep channels into reality?

My belief is that the spoon knife is a story. For some, it's an expression of solidarity that refills our emotional reserves even as it bolsters the morale of the one who offered support. For others, it might be an example that provides the cognitive scaffolding needed to get out of an abusive situation, or even just to recognize one in the first place. It's also possible for it to be a confrontation, a reality that will not yield to our need until we learn to wield it and to control its damage with unwavering precision.
NeuroQueer Books is proud to present the roster for the first volume of The Spoon Knife Anthology.
You heard that right, folx. First volume. In a few months, you will see a call go up for next year's edition, and it will be edited by Autonomous Press's newest partner, Dani Alexis Ryskamp. She currently blogs at Autistic Academic and manages NeuroQueer. Before we can start taking submissions, though, Dani has to select her out-of-press editor because the book needs 2 people on it, and then they need to write a specific call that fits the second volume's title.
Next year's edition will be called The Spoon Knife Anthology 2: Test Chamber. After that, we plan on rotating the editorship until every NQ Books editor has a chance to take on at least one volume. After that, who knows? It all depends on you, our readers and writers.
Here is the list of contributors: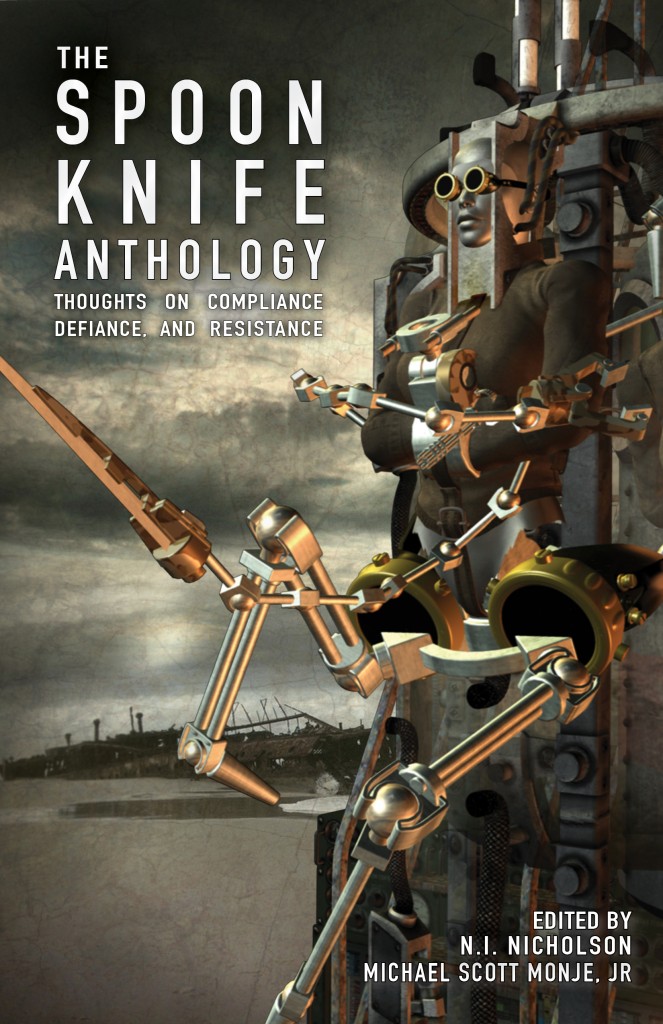 Alex Conall
Alison Kopit
Alyssa Hillary
Amanda Sleen
Andrea Abi-Karam
Andrew Reichart
Athena the Architect
Barbara Ruth
Bridget Allen
Cara Liebowitz
Dani Alexis Ryskamp
E. Lewy
Elizabeth J. Grace
Emily Knapp
Harriet Grace
Jessica Goody
Kassiane A. Sibley
Leah Kelley
Lucas Scheelk
Luis Lopez-Maldonado
Marc Rosen
Marcel Price, a.k.a. Fable the Poet
Marshall Edwards
Michael Scott Monje, Jr. (ed.)
N.I. Nicholson (ed.)
Nick Walker
Nina Fosati
Sabrina Zarco
Samuel T. Harvey
Sarah Caulfield
Selene dePakh
Stephanie Heit
Thalia Rose
Thomas Kearnes
The Spoon Knife Anthology: Thoughts on Compliance, Defiance, and Resistance will be available March 15th from NeuroQueer Books. Stay tuned for preorder and early ebook sales on the AutPress Direct store.
[Image description: Mechanized flesh and architecture combine in a dystopian landscape that evokes depersonalization and desolation in this art from Selene Depakh. Over top, the title of the anthology and the editorial credentials stand in stark white.]