Chances are, you've got a bibliophile or two (or perhaps 15) on your gift list. Thankfully, AutPress has rolled out four new gift bundles for the book lovers in your life. (Or, you know, you could gift them to yourself.) Just in time for your gift-giving (or book hoarding) needs, we've put together these bundles and discount deals, each available in both paperback and ebook format. These themed collections were crafted so you can easily select the perfect one for your intended recipients in mind.

First, we'd like to introduce our Autistic Activist Bundle. As one of our gift bundles containing some of the press' most groundbreaking releases, it features three books that are great introductory texts for anyone seeking to understand the realities of Autistic people. The ABCs of Autism Acceptance by Sparrow R. Jones is an excellent guide, discussing and expanding on topics that change the ways in which autism is perceived. Also included is Typed Words Loud Voices, one of our debut books featuring work by a coalition of writers who type to communicate. Finally, The Real Experts is one of our top sellers, containing insider wisdom on autism written by Autistic adults.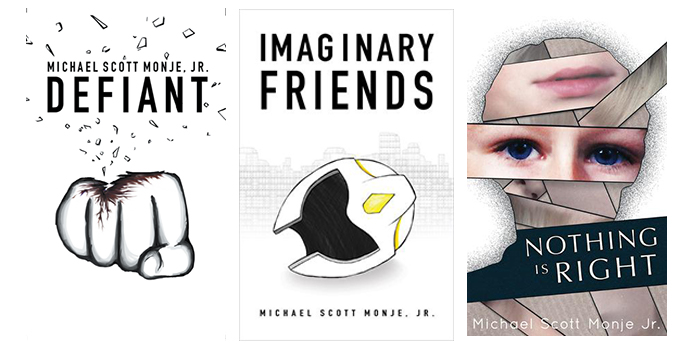 Next among our bundles and discount deals is Shaping Clay: The Elementary Trilogy. This gift bundle contains three works in the Shaping Clay series: Nothing is Right, the Lambda Literary Finalist title Defiant, and the epic Imaginary Friends. If you have yet to read Clay Dillon's saga, you'll want to start with this collection of books. And with the next book in the series Gaslight Village soon on the horizon, you'll want to grab this bundle now to catch up on the story. By the way: if you want to support Gaslight Village and read it as a serial subscriber, visit Michael's Patreon.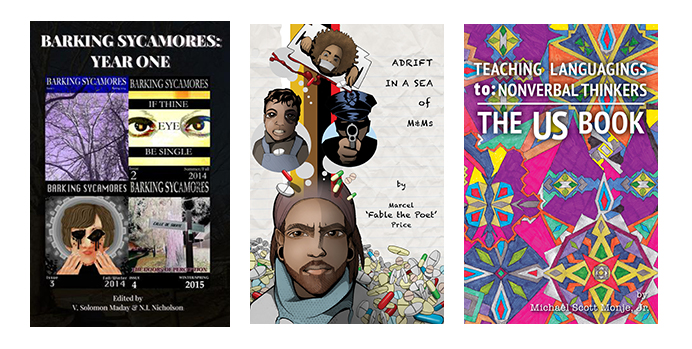 Poetry lovers will want to snag our NeuroQueer Poetry Bundle, which contains all three of our poetry releases this year at a substantial discount. This gift bundle includes Adrift in a Sea of M&Ms, the Summer 2016 collection released by Michigan spoken-word artist and activist Fable the Poet. Also in this collection is The US Book by Michael Scott Monje, Jr., which provides the backstory for both Clay Dillon's and Lynn Vargas' universes. Finally, Barking Sycamores: Year One pulls together the poetry, short fiction and artwork published in Barking Sycamores' first year of publication.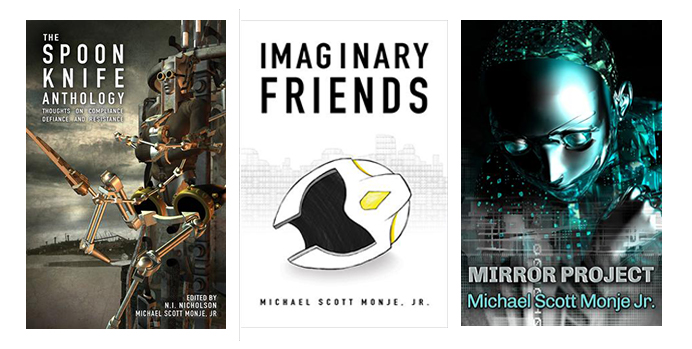 Explore new worlds in which neuroqueer voices are centered with the NeuroQueer Horizons bundle. Before our NeuroQueer Horizons chapbook series launches, you'll want to immerse yourself in this collection of neuroqueer fiction, memoir, and poetry. Included in this gift bundle are the first Spoon Knife anthology, the science fiction thriller Mirror Project, and Monje's Imaginary Friends, a surreal exploration of Clay Dillon's childhood from the Shaping Clay series.
We're proud to offer these bundles and discount deals as both paperbacks and ebooks. Whether you're seeking to treat yourself or you want to put smiles on the faces of your book-loving friend, you don't want to pass up these generously discounted collections containing our landmark releases, engaging fiction works, and pioneering poetry. Happy gifting!