It's always a pleasure to talk with A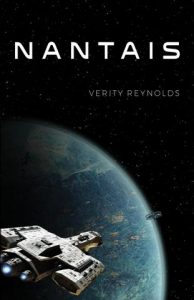 utPress authors. Today we share an exchange between Azzia Walker, the operations manager, and Verity Reynolds. Stay tuned for Verity's next book, and be sure to check out Nantais.
What do your characters teach you?
Since I began writing as a child, my characters have always done the one thing I was least allowed to do: have feelings and express them. So for years, they were the ones teaching me how to identify, process and manage my emotions. They've also taught me a lot about interpersonal communication; I can work out how conversations are likely to go before I actually have them.
What was the feeling after finishing Nantais?
Overwhelmed. Relieved. Terrified. I wrote a blog post about it at the time.
Today, that blog post reads like the verbal equivalent of chucking pasta at a wall, which is a pretty good description of my feelings at the time, too. 
What advice do you have for a new writer?
When new writers ask me for advice, my mind always goes to Marge Piercy's "For the Young Who Want To," specifically the last two lines: "Work is its own reward. You have to/like it better than being loved."
New writers are especially likely to want, not to write, but to have written. They want to be where published writers are, having written a book/play/short story/etc, and so they ask for advice for getting to the point of having written. 
But the only way to have written is to write, and writing is hard. It's brutal. There are no shortcuts. Writers joke about this all the time; the #amwriting hashtag on Twitter is full of authors making fun of themselves for scrolling #amwriting instead of actually writing. 
So my advice to new writers is: You have to like the work more than being loved. You have to find something in writing that you only find in writing – not in having written, not in scrolling Twitter, not in skiing or changing your oil or serenading infants. Find that, and the rest will take care of itself.
(This is not the piece of advice for which I'm most asked. That's how to make a living as a fiction writer, to which my advice is "Don't try." Only 10 percent of the membership of SFWA currently makes a living solely from writing, and of those, only 5 percent do it solely from fiction. I consider myself extraordinarily fortunate to be in that intermediate 5 percent who make money solely from writing, even though it's technical writing that makes up the gap.)
What are you working on these days?
I'm slowly finishing the draft of Nahara, which is the sequel to Nantais. My brain is already onto the next book after that, The Ambassador, so I'm expecting the writing of that one to go fairly quickly.
When I'm not at my desk, I'm working with Boundless, which is an Independent AA winterguard out of Battle Creek, Michigan. It's our first year on the floor and we're by far the smallest guard in our division, but the members are doing outstanding work. I'm also preparing for a concert with the Hillsdale Wind Symphony in May. And, of course, I'm always working on spoiling my spouse and our three cats.
What sparks joy in your life?
My spouse. My cats. Long walks in the woods (or, failing that, the treadmill) in which I don't have to care what time it is or which deadlines are looming. And working with students, either in winterguard or in my spouse's band program. The young people can get ON my lawn!