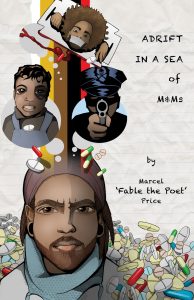 Oh, it's a good week over at AutPress. Azzia Walker, our Operations Manager, got to interview Fable the Poet on the making of art and how he shows up in the world. Be sure to check out Fable's work in Spoon Knife 1 and his first solo poetry collection, Adrift in a Sea of M&Ms. 
Your poems are wicked powerful. Were they always coming out with so much honesty and force, or did you work at opening up that flow?
Thank you for that! Honestly my poetry has not always been so raw, vulnerable, and transparent. I really started writing in High School (mostly in traditional Fables) as a way to vent about what I was going through at home and what I saw going on with my peers in a way that would fully make me vulnerable. Each year I can see, hear, and feel growth in my writing as I become more honest but also take steps forward in the caliber of my writing but for some reason as I progress it really makes me scared and I want to shut down and do nothing… But when I sit idle I get really in my head, so writing it is!
What do you do outside of writing and performing that supports these? Do you have any practices or exercises that keep you centered and strengthened?
I am lucky enough to be the Executive Director of a startup nonprofit organization called The Diatribe. The Diatribe uses performing art to empower young people to share their stories, raise awareness of social issues, and be active members in their communities. Our organization works with nearly 20 schools a year and if I am keeping it 100, the young people that we work with are one of my biggest inspirations. So many of our kids are so brave, honest, forgiving, and constantly working to become the best "them" that they can be. They subconsciously help me with my communication while constantly pushing me to become the best writer and leader that I can be.
As of late I just purchased an Apple Pen and was gifted a book of 400 writing prompts from my mother. The Apple Pen helps as I have been one of those writers that has unfortunately distanced myself from writing in journals, but now I can still do that in my tablet (that is honestly always by my side) and these prompts are a big help as now I am writing nearly twice a week! Yay technology!
When did you start writing and performing? How have you changed since gaining momentum in bringing your voice to the public?
I started performing in High School and it changed my life forever. I actually became a writer because of a High School English teacher. I was failing her English class and after seeing some potential in me, she refused to just stand by and watch me fail. So she said to me "Marcel, if you turn in a piece of creative writing every day I will pass you" – me refusing to get grounded by my mother reluctantly agreed.
At the end of the year she sent me to the KCP (King Chavez Parks) college readiness camp and although I did NOT get excited about higher education while I attended the camp, I did meet some workshop leaders that taught us about performance poetry.
I read at the end of summer reading, next year at my High School talent show, and from that point on I was HOOKED.
Honestly, my non traditional route into writing. My education, my story, and how I continue to evolve as a person but also a writer is a huge part of my "style" and I think many of my readers should know that when diving into my work.
What advice would you have for an aspiring poet or performer who lacks confidence, and who may not have much support in place just yet?
Do it, but do it for YOU. Do it when you have nothing else, do it and be more honest than you ever have before. Do it without any intent of anyone ever seeing it. But take baby steps into showing people your work and take every opportunity to do so that you can.
If this is something you are passionate about, soak in as much information as humanly possible to make yourself better – but also realize that your "better" might not be someone else's "better". Remain true to you, find yourself, and really connect with the people who appreciate your work because they will keep you centered along your journey.
Also, have fun!
Don't make this "work" in the sense that you will ever regret going there.
But also do not give this part time energy as full time hours breed full time results in every aspect of your creative endeavors.