Hi everybody! Michael here, but I'm no longer your loyal leader of the NeuroQueer Books imprint. Nope. I got the thing up and running, but I've been saving a seat for my good friend and longtime editor (through Barking Sycamores, the journal that takes most of my work), N.I. Nicholson. My last act before moving behind the scenes to supervise our labor assignments and workflow on book production is going to be a good one, though: I'm giving you a sale, some pre-sales, and a song. First, the song, which celebrates everything I got into publishing to do:
Next:
AutPress Direct Overstock Sale
We do a lot of events and because of that, we wind up sending a lot of books out to make sure we have inventory. Over time, the extras make their way back to the press store from our partners, and as a result, we can accidentally wind up overstocked. When that happens, we need to recoup our storage space and make sure our books make it out into the world, and we're doing that with an overstock sale. From now until St. Patrick's Day (just because), we're offering 40% off on two of our titles: Corbett OToole's Fading Scars: My Queer Disability History and Michael Scott Monje, Jr.'s Defiant.
Fading Scars, if you have not encountered it yet, is a gripping, close-up autoethnography covering several important events in the history of disability rights, civil rights in the U.S., and disabled communities. It takes a close look at the way they have been constructed, the way research in disability studies impacts communities, and the way communities work to impact research that affects their lives. It is an important read for anyone who seeks to understand how the current landscape of the disability rights and disability justice movements came to be.
Defiant is part of my Shaping Clay series, alongside Nothing is Right and the soon-to-be
released Imaginary Friends. In it, we join Clay Dillon shortly after he finally receives his autism diagnosis–at the age of thirty. As he seeks to navigate a professional life that finds his labor marginalized and devalued and a personal life thrown into turmoil by the collision between disability and a lack of access to basic medical services, Clay's body begins to remember other divergences, and to force them into the foreground of his personal development. On top of its careful examination of the ways that adjunctification and workplace access impact disabled populations in the United States, the novel also takes an unflinching look at the violence that transgender individuals perpetuate against themselves when they attempt to deny their own nature.
Pre-Orders for New Releases
On top of our inventory reduction sale, we are also offering presales with instant ebook delivery for our U.S. customers. Like with our other titles, international customers are welcome to purchase the ebooks as long as they have a valid payment method, but we can not ship abroad. This March, our new releases include two anthologies edited by our new NeuroQueer Books coordinating editor N.I. Nicholson, as well as my (Michael's) newest novel, Imaginary Friends.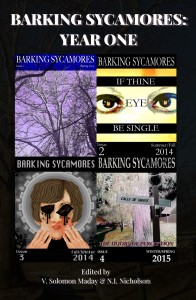 Barking Sycamores published its first issue in the spring of 2014 and from the beginning, it dedicated itself to providing a medium for neurodivergent voices in literature and art. In partnership with Autonomous Press's NeuroQueer Books, the journal proudly presents its Year One anthology. Collected in this volume are its first four issues, first published online in 2014 and 2015.
FEATURING WORK BY: Sarah Akin, Mikey Allcock, Samm Almester, Amy Barlow Liberatore, Matthew Brown, Cathy Carlisi, Ellie Castellanos, Tasha Chemel, Deanna Christian, Robin Como, Allen Davis, Melissa DeHart, Heather Dorn, fayola, Leila Fortier, Kimberly Gerry Tucker, Jessica Goody, Elizabeth J. (Ibby) Grace, Michael Lee Johnson, Duane L. Herrmann, Madison Kallisti, Jillian Koopman, Thomas Krampf, Craig Kurtz, Savannah Logsdon-Breakstone, Chris McLean, Laura Merleau, David Mitchell, Michael Scott Monje Jr., N.I. Nicholson, A.J. Odasso, Emily Paige Ballou, Thomas Park, C.F. Roberty, Miss Roberts, Maranda Russell, Barbara Ruth, Giorgia Sage, Phillip Sroka, Lucas Scheelk, A.D. Stone, Bethany Tap, Jonathan Travelstead, Candy Waters, Angela Weddle, Christopher Wood-Robbins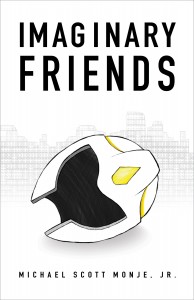 In Imaginary Friends, "The strange and terrible saga of Clay Dillon begins with the books Nothing Is Right and Imaginary Friends,and also includes Defiant (which takes place when Clay is 30 years old). The whole saga should be required reading for anyone who works in any capacity with the sort of young people who are often described asgifted, disturbed, troubled, oppositional, defiant, or exceptional…
In a way, Clay himself is an "imaginary friend" to the adults in his life, insofar as when they look at him they don't see him but instead see an imaginary child, a product of their own misconceptions and projections who has no resemblance (except in the external physical sense) to the real Clay Dillon. Every adult in his life is consistently one hundred percent wrong, all of the time, about Clay's motivations, needs, feelings, thoughts, and perceptions… They can imagine neither the extent and nature of his difficulties, nor the complexity and sophistication of his thinking.
In this respect, Imaginary Friends constitutes a warning to any adults – especially those in "helping" professions – who are so arrogant as to presume that they can truly understand the realities of their young charges." – Nick Walker, from the Afterward to the book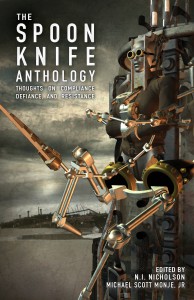 Last but definitely not least,  The Spoon Knife Anthology collects the work of over 25 authors, including Autonomous Press partners, disability studies scholars, established prose and poetry artists, and emerging storytellers from a variety of backgrounds. Together, these writers deliver a series of meditations on compliance and consent that are simultaneously intimate and alienating.
"This jewel of a collection had me crying, laughing in parts, and becoming outraged. I hope that everyone in the care-taking communities of medicine and mental health reads these rare and wonderful first hand accounts for their own education."
– Judy Grahn, author of A Simple Revolution, Another Mother Tongue, and Love Belongs to Those Who Do the Feeling
We hope you enjoy them! And I'll be back in a couple of weeks with some announcements about our June books! You can check out the pre-orders and the whole back catalogue at shop.autpress.com!
Michael Scott Monje, Jr.
Production Coordinator, Autonomous Press